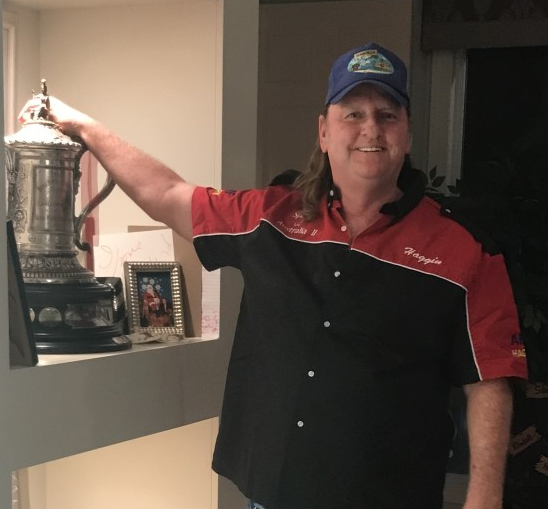 STRATEGIC ADVISER  
John Haggin and Ken Warby have shared a special friendship for many years. Haggins support and experience in the world of high powered international powerboat racing, winning multiple World Championships will be a key component to the success of the Spirit of Australia II mission to set a new Unlimited Water Speed Record.
As owner and Founder of AMF/ Miss Geico Offshore Racing, he believed in his team and did what it takes to stay number one. John Haggin has had more of an impact on the sport of Offshore Racing than anyone. From equipment to crew, AMF /Miss Geico Offshore Racing was the country's premier and fastest-performing powerboat racing team. His AMF/Miss Geico trucks are easily identifiable by the large happy face logos and the signature motto "BIG SMILE."
With this expertise & experience, John Haggin takes every opportunity to advise and mentor Dave Warby on what it takes to run a Powerboat Racing Team successfully, to ensure success in Dave's quest to break the world unlimited water speed record.
His continued expert advice and financial support is greatly appreciated by the entire team. His generous support to date has allowed the team to take the project from the workshop to on water testing.
John Haggin and Ken Warby will be side by side on the shores of Blowering Dam, Australia, when Dave Warby in Spirit of Australia II makes history, and Breaks the 40 plus year old World Water Speed Record.