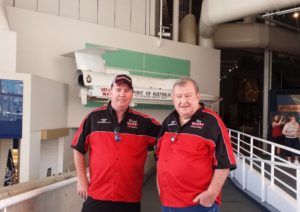 On Blowering Dam N.S.W Australia, Ken Warby set two World Water Speed Records in 1977 and 1978. the current World Water Speed Record 317.60 MPH ( 511KMH) . Despite two unsuccessful official challenges on Ken's record since 1978, along with many challengers claiming they will build a boat to beat Ken's record, to date, no one has, Now 40 years later Warby Motorsport will again challenge the Outright Unlimited World Water Speed Record, Father & Son, Ken and Dave Warby will challenge the record in the new Spirit of Australia II, Ken Warby is the only man in history to design, build and drive a boat to an Outright, Unlimited World Water Speed Record, he is also the only man alive to ever hold this record.
The project will see the current World Record Holder & Challenger , Father & Son working side by side to break Ken's 40 year old record. Spirit of Australia II is a second generation jet powered hydroplane designed by Ken Warby, building the boat was headed up by Dave Warby & the Warby Motorsport Team. Spirit of Australia II will be driven by Dave Warby, a second generation Boat racer, builder & now World Water Speed record Challenger.
Warby Motorsport is delighted to be returning to Blowering Dam, N.S.W Australia to challenge the World Water Speed Record, the same stretch of water that Ken broke both World Records on. The local community's in the Snowy Mountains region such as Tumut and Talbingo are supportive of our project, we look forward to returning to catch up with old friends and make new ones.